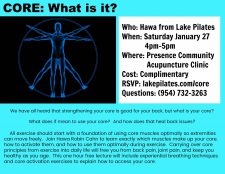 As an acupuncturist, low back pain is one of the most common complaints that I treat in the clinic. As helpful as acupuncture can be in managing low back pain, the problem often recurs. A patient will come to the clinic for a week or two and get sufficient relief to resume their daily activities, only to return in a few months with the same (or sometimes worse) pain.
In these cases, the patient will ask me, "What happened?", and I will need to tell them that acupuncture, as useful as it is in reducing the pain, isn't going to solve the problem. The real key to making their back pain go away is… exercise. Yes, specifically exercise which will strengthen the core muscles of the abdomen and the back to keep the spine aligned against the force of gravity, poor biomechanics and other causes of disk injury and pinched nerves. This is not always what they want to hear, but it is what I have observed over more than two decades of professional acupuncture practice, which has included working alongside physical therapists in multi-disciplinary pain clinics. The patients who kept exercising fared much better than those who, for whatever reason, did not.
This is why I'm really excited to host a no-cost one hour class by Hawa Robin Cahn this Saturday at Presence Community Acupuncture. Hawa is the owner of Lake Pilates, just up the road from the clinic. I've been working with her personally on my own exercise goals, and I can tell you she is an excellent instructor with many years of experience. Her presentation is very clear, and she always starts with where her clients are at with a lot of encouragement and zero judgement.
If you are interested in attending her class, please let her know by signing up at lakepilates.com/core or calling 954-732-3263. The class is scheduled for Saturday, January 27th, from 4-5 PM. You can click on the image above to see the flyer. Space is limited. I hope to see you there.