Robert Hayden, A.P.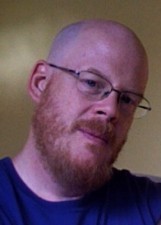 About me
My name is Robert Hayden, and I am a practitioner of Asian healing arts, or "Oriental medicine".
I'm licensed in Florida (where I live) and Illinois (where I come from). The designation "A.P." is a licensure title in the state of Florida; the letters stand for "Acupuncture Physician". I am nationally board-certified in both Acupuncture and Chinese Herbology by the National Commission for the Certification of Acupuncture and Oriental Medicine (NCCAOM). I earned a Master's of Science in Oriental Medicine (M.S.O.M.) from Midwest College in Chicago.
My Background
I've been in practice since 1995. I was employed for three years at a busy physician-directed pain clinic in the suburbs of Chicago, and also volunteered for two years at a non-profit community-style HIV/AIDS clinic in the Uptown area. I had a private practice in Chicago and Evanston, Illinois.
I have taught acupuncture and Oriental medical theory since 1998. I was a primary member of the faculty at the Midwest College of Oriental Medicine (the school from which I graduated) from 1999 until 2002. After that I taught at Acupuncture & Massage College (formerly Southeast Institute of Oriental Medicine) in Miami, Florida. I taught both acupuncture and Chinese herbal medicine there. I was also the Program Director for the Oriental Medicine program there, and wrote most of the curriculum currently used at the school. Now I am on the Board of Directors of the POCA Technical Institute in Portland, Oregon, which is the first school specifically devoted to preparing students for working in community acupuncture clinics.
I've had a lot of training specifically in Japanese Meridian Therapy, which is a very gentle style of acupuncture. I rely on the skills I learned from my Japanese teachers (many of whom are blind and have a highly refined sense of touch) to provide very comfortable and effective treatments at Presence Community Acupuncture.
I have contributed numerous articles to the North American Journal of Oriental Medicine (NAJOM), published in Vancouver, BC, and distributed worldwide.
I live in Hollywood, Florida, am happily married and have been blessed with a now-twelve-year old son. Life is good.